Contact Us
The Monroe Times Office
Office Address: 1065 4th Ave. West, Monroe WI, 53566
Office Phone: 608-328-4202
Office hours: 8:00 a.m. to 5:00 p.m., Monday through Friday
Ways to connect with The Monroe Times
How to submit to The Monroe Times
Advertising
Laura Hughes
Advertising Sales Manager
608-328-4202 ext. 24
Laura Hughes has been a member of the advertising team at the Monroe Times since 1982 and has been working with clients of the Monroe Shopping News since 2003. She is the advertising manager for Morris Media of Monroe and works with all of our clients from local businesses to national advertising agencies. Laura enjoys working with all aspects of our advertising products including the newspaper, shopper and websites. Laura has been married for more than 37 years and is the mother of two and grandmother of four. She is a graduate of Monroe High School.
Diane Albright
Media Sales Consultant
608-328-4202 ext. 20
Diane Albright has been a media consultant for 30 years and covers the areas of Monroe, Brodhead and Juda in Wisconsin and Warren, Ill.  She has lived in Monroe her entire life and has one son, Michael, and two grandsons – Kade, 7, and Jaxon 6.
Lance Ray
Advertising Account Development Representative
608-328-4202 ext. 10
Lance Ray has been an advertising account executive with the Monroe Times since September 2017. Ray, a former physical education and health teacher at the Black Hawk School District, enjoys working with community partners developing advertising to help promote businesses and events. Ray enjoys watching the Wisconsin Badgers, Green  Bay Packers and Milwaukee Brewers, while spending time with family and friends. Ray has a daughter, Kinley, who runs the house! His favorite foods are greasy hamburgers and pizza with pineapple on top.
Tai Ruegsegger
Media Consultant
608-328-4202 ext. 42
Tai Ruegsegger has been with the Monroe Times since September 2000. She started as a part-time employee with the advertising department, providing customer service and handling classified line ads. She became Media Sales Consultant in 2004 for the Monroe Times advertising department and eventually also the Monroe Shopping News. Tai lives in Monroe and has three children, Brittany, Joe and Caleb. She enjoys spending time with family, friends and Badger State tractor pulling.
Circulation
Tina Curran
Circulation Manager
608-328-4202 ext. 17
Tina Curran has been with the Monroe Times since 2001 working in a variety of positions including substitute carrier, carrier, driver and assistant circulation director. She was named circulation director in February of 2017. When it comes to newspaper circulation tasks, Tina has done it all – walking carrier routes, making pick-ups at the printing plant, handling subscriptions and hand-inserting preprint advertisements. She regularly works with the United States Postal Service to ensure all Morris Media of Monroe products are timely delivered. Her hobbies include fishing and ATV trail riding.
Editorial
Adam Krebs
Editor
608-328-4202 ext. 18
Adam has been a journalist since 2006 and took over as editor in October 2020. He was Sports Editor at the Monroe Times from 2008-2011 and returned as a reporter and columnist in September 2017. Other stops along the way include the Freeport Journal-Standard, the Lakeland Times, WisSports.net and Big Radio. He has won Wisconsin Newspaper Association awards for writing, photography and page design. Adam is a sports enthusiast and has never met a pun he didn't like. He lives in his hometown of Monroe with his wife Courtney and their four children: Perla, Gabe, Vivian and Roman.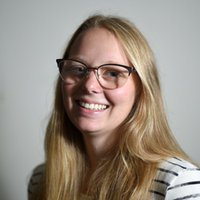 Shannon Rabotski
Reporter
608-328-4202 ext. 13
Shannon Rabotski is a Monroe native who graduated from Drake University in May 2020 with a major in news and a minor in German. She also had a concentration in Germany and the world. When she's not at the office, Rabotski can be found walking, biking or jogging around town, but her favorite place to be is at home with her pets.
Administration
Matt Johnson
Publisher
608-328-4202 ext. 15
Matt Johnson has been a professional community journalist in southern Wisconsin since 1989. He has a bachelor of arts degree with a double major in journalism and political science from the University of Wisconsin-Whitewater. He started his career in journalism as a sports reporter and later a general assignment reporter before serving in administrative roles including editor, managing editor and publisher. Johnson came to the stateline area to be publisher of Morris Media of Monroe in 2016 after publishing a group of newspapers in southwestern Wisconsin. Johnson's work has been recognized by the Wisconsin Newspaper Association Foundation, Wisconsin Center for Investigative Journalism and in 2012 he earned Lee Enterprises' President's Award for Excellence in News. He was chosen as Citizen of the Year in Fennimore in 2001 and as an Outstanding Volunteer by the Viroqua Chamber of Commerce in 2007. He is a 2014 graduate of the Rural Leadership Program of the University of Wisconsin-Extension (Vernon, Jackson and Monroe counties). He is an Ambassador for the Monroe Chamber of Commerce. Johnson enjoys talking to readers about all topics. His interests include history, Wisconsin athletics and issues regarding fairness. Johnson grew up in Janesville and his first job was as a carrier for the Janesville Gazette. He and his wife have two adult sons. His favorite foods are several different varieties of Wisconsin cheese.
Kathy Pierce
Business Manager
608-328-4202 ext. 12
Kathy Pierce has a bachelor's degree in accounting and business administration from the University of Wisconsin-LaCrosse. She has been with the Monroe Times since 1996 as a customer service representative for circulation and classifieds. She was promoted to business manager in January 2016. She and her husband have two adult children.
Nikki VanNatta
Office Clerk
608-328-4202 ext. 10
Nikki VanNatta has been with the Monroe Times since August of 2018.
She is the office clerk and handles classified line ads, bulletin board ads and is the go-to for all departments. She lives in Monroe and has two adult sons and one teenage daughter.
Jaimie Tran
Prepress Director
608-328-4202 ext. 39
Jaimie Tran has 15-plus years of experience working in the newspaper industry. She has a bachelor of arts degree with a double major in graphic design and advertising from the University of Wisconsin-Whitewater. Jaimie moved to Monroe in 2007 with her husband, Nguyen (Winn). The couple has four children. Her children keep her occupied with being their chauffeur or volunteering at their events. Her favorite quote is by Henry Ford: "Whether you think you can or you can't. You're right."